The Belvoir Hunt
OPENING MEET
Photos by authorised professional photographer Nico Morgan
See
Nico's gallery
for more, and to buy copies of your favourites
BHSC Xmas card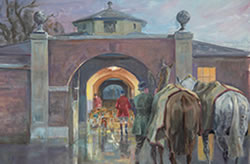 We have a brand new Christmas card from a painting by Daniel Crane of the horses returning from hunting on a winter's night in the Kennels yard. They are 17cm x 12.5cm with a greeting:
With best wishes for Christmas and the New Year
. There are 6 cards and envelopes in a pack for £5.00. They are available from Foster Edwards, Tessa Rollinson, Nina Camm, Charlotte Wright, Mark Farren or any BHSC committee member at every meet, or from Jim Woods at his Friday BHSC stall in Melton Mowbray market, or contact Foster with your requirements via the Contact page.
---

A Christmas prezzie for
point-to-point enthusiasts
Stuck for ideas of what to give a point-to-point enthusiast this Christmas? Why not try a
GARTHORPE 2015 PREMIER CAR PASS
that gives reserved front parking for all five race-days in the same numbered personal spot at the country's premier point-to-point race course. The cost is £175 (as opposed to £250 if you pay by the day). Each pass, which is tax disc size, admits four people per car.
You can buy a Premier Car Pass online now
here
. Follow the prompts and type 'Premier pass' as your Short Description. Or contact MHC Chairman Joey Newton via the Melton Hunt Club website
Contact page
.
---
The Inland Lifeboat
The heroic deeds of the Inland Lifeboat passed into legend with the untimely death of Charlie Brown. However, for those with short memories, we present again for your Xmas entertainment the
story
of its formation and the fabled
Saga
itself. The Lifeboat was renowned for rescuing cyclists who had become navigationally challenged and sometimes incoherent with enthusiasm after a Meet. The Saga epic retells a celebrated incident at Eye Kettleby Hall where the Lifeboat with Cox'n Brown at the helm battled through mountainous traffic in Melton to come to the assistance of an errant cyclist who had mislaid his brakes and was In Distress.
As the nights draw in, evening frosts return and scent picks up, Charlie's avuncular presence and gin-dry sense of humour in the field are greatly missed.
---
Welcome...
... to the Belvoir Hunt's website for news, a summary of forthcoming events, details of how to contact us, our small adverts section, a unique satellite map of our country which is zoomable to hedgerow level and shows our boundary and many of our coverts, and reports from our Tumblers Club, point-to-point racing, team chasing and hunter trials, hedgelaying competition and others.