The Belvoir Hunt
OPENING MEET
Photos by authorised professional photographer Nico Morgan
See
Nico's gallery
for more, and to buy copies of your favourites
BHSC Xmas card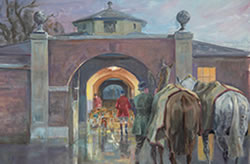 We have a brand new Christmas card from a painting by Daniel Crane of the horses returning from hunting on a winter's night in the Kennels yard. They are 17cm x 12.5cm with a greeting:
With best wishes for Christmas and the New Year
. There are 6 cards and envelopes in a pack for £5.00. They are available from Foster Edwards, Tessa Rollinson, Nina Camm, Charlotte Wright, Mark Farren or any BHSC committee member at every meet, or from Jim Woods at his Friday BHSC stall in Melton Mowbray market, or contact Foster with your requirements via the Contact page.
---

A Christmas prezzie for
point-to-point enthusiasts
Stuck for ideas of what to give a point-to-point enthusiast this Christmas? Why not try a
GARTHORPE 2015 PREMIER CAR PASS
that gives reserved front parking for all five race-days in the same numbered personal spot at the country's premier point-to-point race course. The cost is £175 (as opposed to £250 if you pay by the day). Each pass, which is tax disc size, admits four people per car.
You can buy a Premier Car Pass online now
here
. Follow the prompts and type 'Premier pass' as your Short Description. Or contact MHC Chairman Joey Newton via the Melton Hunt Club website
Contact page
.
---
Harvest supper
Over 120 people enjoyed the Opening Meet Supper and Harvest Festival organised by the Hunt Supporters Club at the end of October. This annual event has become "the" place to bag a bargain. Each year we are overwhelmed by the generosity of you our supporters who provide such a wonderful range of produce and goods for the auction. You can see from Rachel Lovegrove's photo that the range was immense. This year we were delighted to welcome back Ben Wills who did a fantastic job auctioning all the lots raising a total of £780 in the process.
Thank you to everyone that kindly gave towards the auction and for those of you that joined us on the night.
---
Pay for your cap online
You can now book and pay online from this website. No more phone calls, cheques, or envelopes stuffed with cash, although they are all still welcome. You can now do everything online: see the Hunt / Pay cap page for more or click
here
.
---
Welcome...
... to the Belvoir Hunt's website for news, a summary of forthcoming events, details of how to contact us, our small adverts section, a unique satellite map of our country which is zoomable to hedgerow level and shows our boundary and many of our coverts, and reports from our Tumblers Club, point-to-point racing, team chasing and hunter trials, hedgelaying competition and others.