The Belvoir Hunt

Coats 2 Syria
Photos from Jane Harris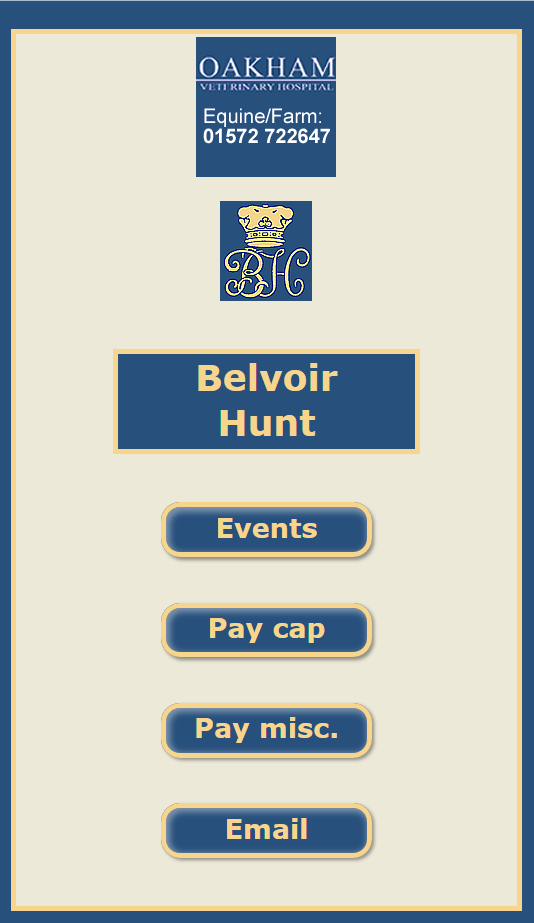 SMARTPHONE? TABLET?
For a couple of years, the BH's popular smartphone 'app' has allowed you to display coming events. But it hinted that there was more to come...
You can now make online payments for caps and other items, and email the BH and MHC (and other) Secretaries — all via the app. This is complementary to the online payment pages of this website - you can use either, whichever is more convenient - and they offer the same facilities.
See the Help / Newsfeeds page for more details.
And, at the top left-hand corner of
this
page, you might have noticed a small blue box with three bars. Clicking it displays the menu vertically instead of horizontally and in much larger lettering. This is to help:
users of smartphones (that have small screens usually held vertically)
those with a visual impairment
---
Coats 2 Syria
The BH would like to thank everyone for their wonderful help and generosity. We had an incredible response to the Country coats for Syria appeal and, as you can see in the photo gallery on the right, were able to deliver a trailer that was completely full of coats. The container will leave for Syria next week. Again, many thanks to all of you who donated coats and to those lovely people who helped load the trailer.
---
GARTHORPE PREMIER CAR PARKING
A present for racegoers (or yourself?) - and at a bargain price
Same Reserved Parking space for all 5 of the Meetings
All forward spaces close to the Parade Ring
Great for picnics and viewing
Admits 4 Adults
£160 (normally £250)
Contact Joey Newton at chairman.mhc@melton-hunt-club.org.uk
Garthorpe is Proud to Host the Dodson and Horrell Novice Rider Final and the Point to Point Pony Racing Finals
---
Welcome...
... to the Belvoir Hunt's website for news, a summary of forthcoming events, details of how to contact us, our small adverts section, a unique satellite map of our country which is zoomable to hedgerow level and shows our boundary and many of our coverts, and reports from our Tumblers Club, point-to-point racing, team chasing and hunter trials, hedgelaying competition and others.